Works begin on reimagining Moonee Ponds Creek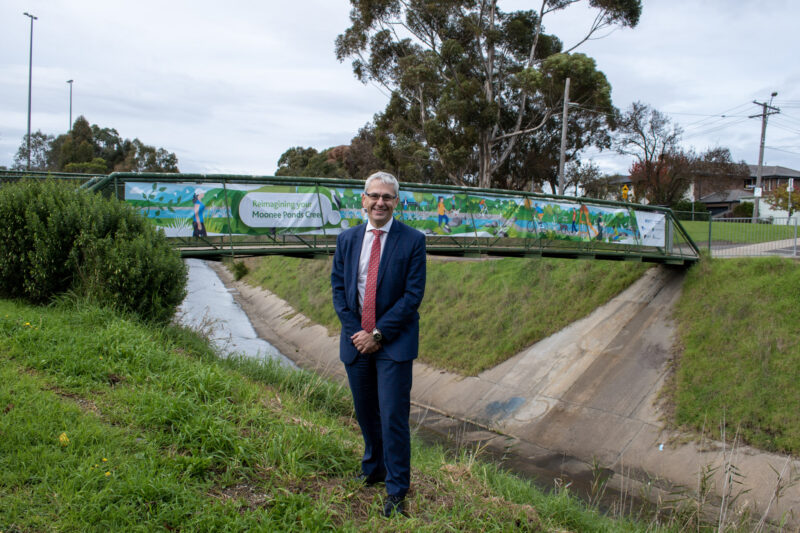 The Andrews Labor Government is transforming Moonee Ponds Creek in Melbourne's northwest into an activate open space for the local community to enjoy. Works are beginning on the first stage of the $10.2 million Reimagining Moonee Ponds Creek project with the construction of a shared user path on the Brosnan Crescent side of the creek.
The Andrews Labor Government has invested $5 million towards the project with the rest funded by Melbourne Water, Moreland Council and Moonee Ponds Council. The community has been at the centre of designing the new creek, with concept design C the most popular receiving 135 votes, 17 votes more than design B. Design C includes the construction of a new pond at Oak Park and the opening of the Oak Park stormwater drain to create a more natural connection to the creek.
This project will revitalise a 500-metre section of old concrete channel running through the suburbs of Strathmore and Oak Park. More than 690 tonnes of concrete will be removed from the side and base of the pond and replaced with rocks, native vegetation and trees with benches also being installed to help the community to enjoy the upgraded space. The old bridge connecting Strathmore North Primary School and Margaret Street will also be replaced. The project will improve waterway health and biodiversity as water flows will be slowed and aquatic and riparian vegetation established.
The Wurundjeri Woi Wurrung Cultural Heritage Aboriginal Corporation were consulted to ensure cultural values of the area's Traditional Owners are considered in the delivery of this project. Stage two will commence in October 2022, with the project to be complete by mid next year.
Quotes attributable to Member for Essendon Danny Pearson MP
"The project is significant as it naturalises the last piece of concrete in the creek, creating a healthier environment and providing the local community with more green space."
"Our local community is at the heart of this project, with ongoing engagement with both the community and key stakeholders, including the Chain of Ponds Collaboration Group throughout each stage of the project."
"This is the first big step towards returning Moonee Ponds Creek back to an iconic waterway of Melbourne."